Migrating Access Databases to MySQL
The easiest way to migrate your Access database to MySQL is to export a MySQL-compatible SQL file using MDB Viewer and then upload this file using the wonderful Open Source app Sequel Pro.
For a general introduction to SQL files, see Exporting as SQL.
Step by Step
In MDB Viewer:
Click the "Export SQL" button if you want to export all tables or select some tables in the sidebar and choose "Export selected tables to SQL…" from the File menu
Select the "MySQL" format, and choose whether to export data, structure, or both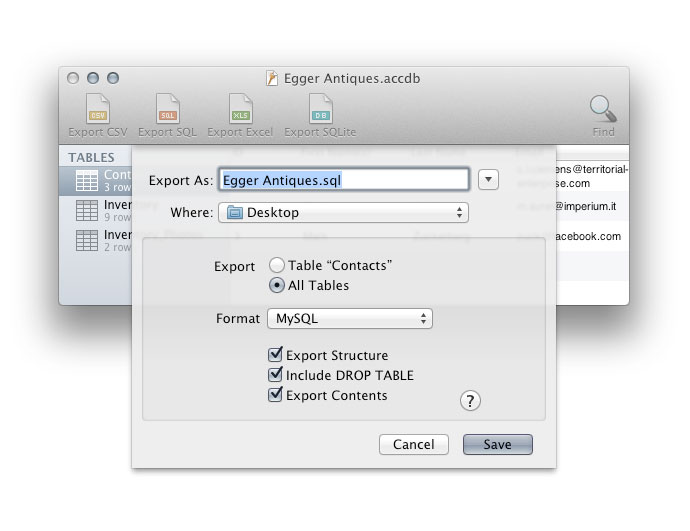 In Sequel Pro:
Connect to the MySQL server
Select the target database from the database popup
Select "Import…" in the File menu
Open the SQL file created with MDB Viewer (using UTF-8 encoding)
Access Types vs. MySQL Types
| Access Type | MySQL Type |
| --- | --- |
| Boolean | BOOLEAN |
| Byte | INTEGER |
| Integer | INTEGER |
| Long Integer | INTEGER |
| GUID | TEXT |
| Decimal | DOUBLE |
| Money | DOUBLE |
| Float | DOUBLE |
| Double | DOUBLE |
| Date/Time | DATETIME |
| Text | VARCHAR |
| Memo | LONGTEXT |
| Ole | LONGBLOB |
When exporting for MySQL, backticks are used to quote table and column names. Therefore table names containing spaces etc. work just fine.